Projects
Travelling Museum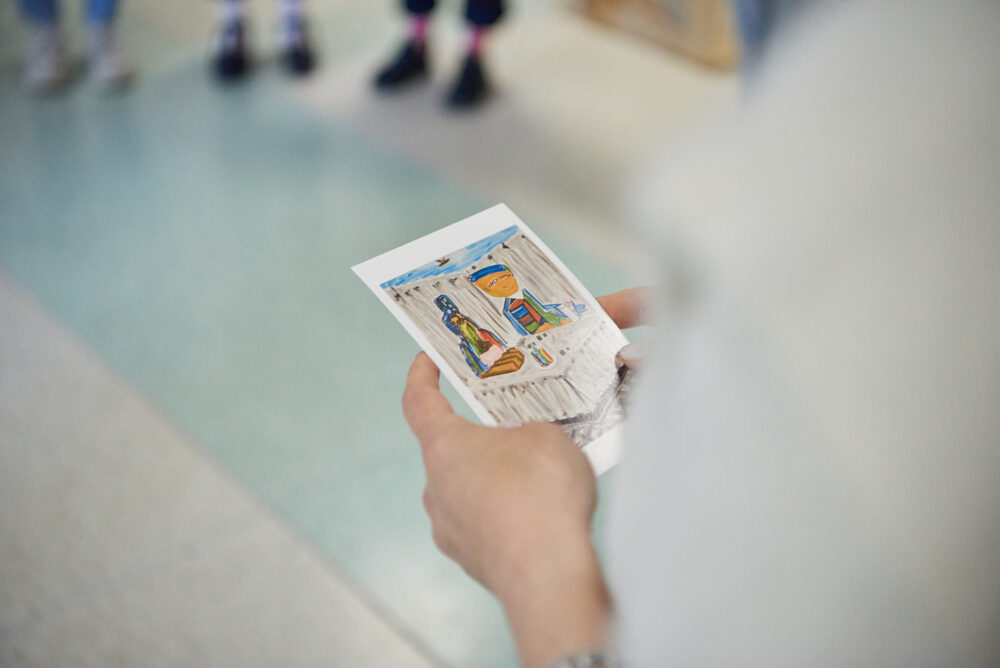 The "Travelling Museum" is MO Museum's mobile version. Even before it opened, MO cared a lot about getting to know its future visitors, so we held a series of meetings and discussions about art and the museum of today.
MO dedicated 2017 to get-togethers, games with students and discussions with different communities, and with anyone who invited us to meet them.
"Travelling Museum" educator Ieva Rekštytė-Matuliauskė visited numerous schools in Vilnius. She worked with students and teachers to find ways of turning a typical 45-minute lesson into a blend of creativity, art and youthful curiosity that would inspire life-long interest in culture.
MO Museum dedicated 2018 to getting to know communities. We visited Lithuania's largest cities to introduce the new museum and invited people and groups to help us create it – together!
The "Travelling Museum" is about encounters and conversations. It's an opportunity to establish connections, to hear you and to tell you about MO Museum and the ideas behind it.
Vilnius Talking Statues
Have you ever thought of how many different stories surround the statue "Quay's Arch", or better known and quickly named as "the pipe"? What could it tell, if it spoke?
MO Museum invites you to discover 23 talking statue in the heart of Vilnius.
MO Museum gave a voice to statues, which embody some of the most appreciated Lithuanian historical personalities, figures of other nations, who represent Vilnius as a multicultural city, as well as fictional characters, who are a part of Vilnius story telling. One is able to learn more on figures and characters embodied in the statues as well as cultural, historical and architectural heritage of Vilnius or simply recollect the history of the city during the call.
Different statues are animated with the text and voices of some of Lithuania's most prominent contemporary writers, performers, actors as well as public figures.
Simply walk up to a Talking Statue, swipe your smartphone on the nearby tag and voilà – you have an incoming call! It might be the legendary American singer Frank Zappa on the line… or the world-renowned 20th century French writer Romain Gary… or Gediminas, the medieval Grand Duke of Lithuania… calling you to share their intriguing stories!
Enjoy you tour with the map of Vilnius Talking Statues.
Literatų Street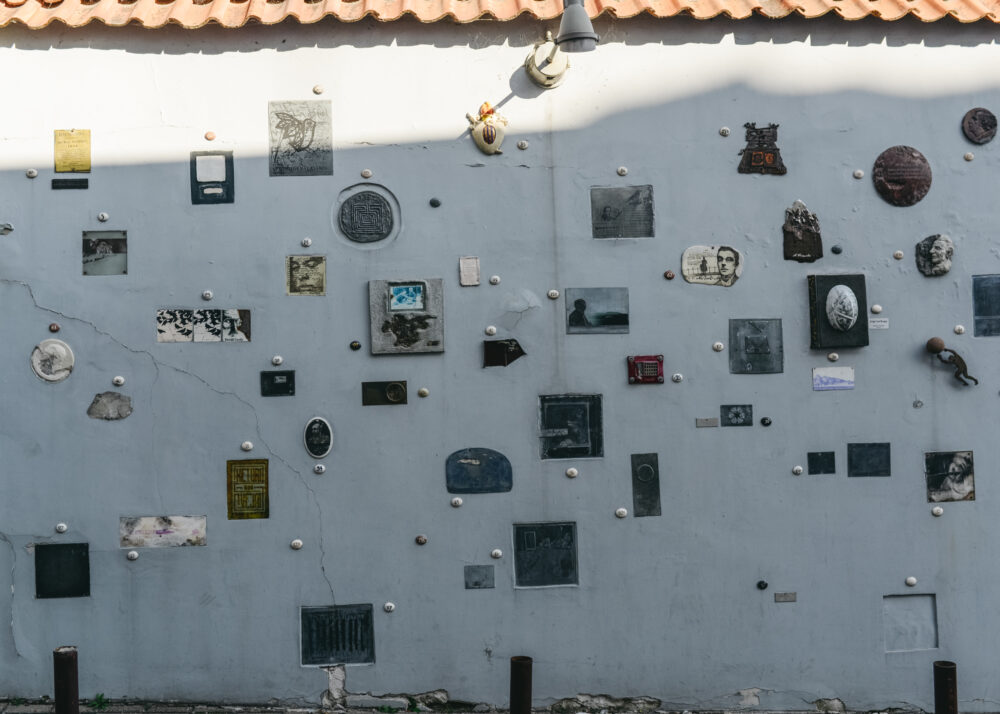 The MO Museum started its activities in 2009 in Vilnius, in the No 8th house of Literatu Street, so the first project of the "museum without walls" took place right here – in the closest environment. Its aim was to revitalise Literatu Street, to link it more firmly to the writers who have lived and worked in Vilnius, as well as to foreign writers who are in one way or another connected to Vilnius and Lithuania.
The project was curated by artist Egle Vertelkaite, who created and developed the visual-artistic expression of the project, and invited many of her fellow artists. During the project, about 150 artists created over 200 ceramic, metal, plastic and various ready-made small works of art commemorating specific writers. Installed in the walls of Literatu Street, they attract constant and uninterrupted attention from both Vilnius residents and visitors.
Egle Vertelkaite not only led the project, but also created a number of works herself, organised writers-musical celebrations in Literatu Street, and, together with designer Vaidotas Skolevicius, created a special Literatu Street website. The artist's work has been noticed by the citizens of Vilnius and was awarded the St. Christopher Award in 2009.
In order to "decrypt" and tell more about the writers commemorated on the wall, Milda Ivanauskiene gathered material about the writers mentioned on the wall as well as the artists who commemorated them. In 2014, the MO Museum published her book "Literatų gatvė" (Literatu Street), a cultural guide to Vilnius' multiethnic literature heritage.
The project is supported by UAB Fermentas (now it's ThermoFisher Scientific), the Rotary Club of Vilnius Old Town, the French Embassy in Vilnius, and private individuals. The project took four years to complete in 2013 and MO continues to carry out maintenance work on the wall, kindly supported by the Rotary Club of Vilnius Old Town.
MOdyssey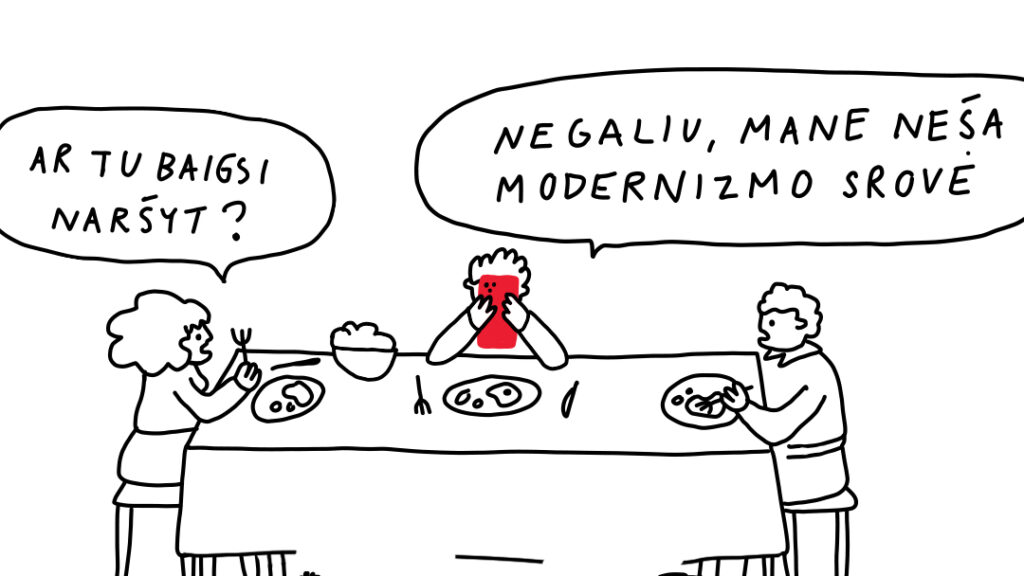 MOdissey is a virtual Lithuanian art game-adventure, to which we first invited you in 2020.
It is a free, one-day virtual art exploration game consisting of 20 engaging questions to learn more about Lithuanian art (and more). It's a fun game that requires no prior knowledge. The questions are illustrated with artworks of MO collection that suggest either the right answer or the path towards it. At the same time, it is also a great way to get to know Lithuanian modern and contemporary artists and their works.
The MOdyssey 2021, now in its second edition, attracted 1 390 participants. The virtual art game brought together people from all over Lithuania – this year there were more participants from other cities than from Vilnius! Also, the MOdyseey attracted players from 25 different foreign cities.
Maybe next year you will chance your luck at it too? See you at MOdissey 2022!
After all, it's fun when you know. But it's even more fun when you find out!