MO Museum presents new cycle of events and preserved partnership with major patron Švyturys–Utenos Alus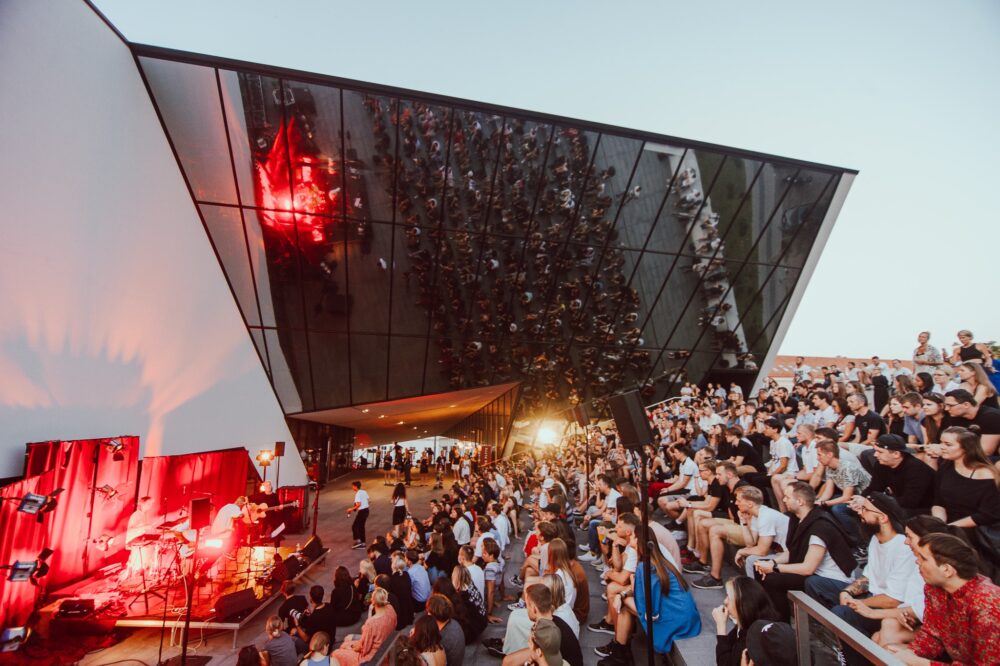 MO Museum presents new cycle of events and preserved partnership with major patron Švyturys–Utenos Alus
At the beginning of September, MO Museum together with Vilnius City Opera (VCO) opened a new small exhibition "From That Opera", and now MO presents a new cycle of events to its visitors, called "The Art of Being". The first event is already planned on 20 September. This way MO Museum will also continue its cooperation with the major sponsor Švyturys–Utenos Alus, despite the difficult circumstances during the pandemic.
Pandemic – challenge to patronage
According to representatives of MO Museum, the Museum signed the partnership sponsorship agreement with its major sponsor a year ago, in the hope of extending it for another year. However, due to the quarantine, MO was closed for almost three months, all events had to be cancelled and the planned exhibition had to be moved to the next year. In such circumstances, it is very difficult to keep the promises made to sponsors.
According to Milda Ivanauskienė, Director at MO, many activities would not be possible without patrons and sponsors support. In cooperation with the major sponsor, an exposition of "The Origin of Species: 1990s DNA" was opened in Klaipėda this summer, as well as many events related to this major exhibition took place in Vilnius. As a sponsor of MO Museum and VCO, Švyturys–Utenos Alus has also contributed to the recently opened exhibition-installation "From That Opera".
"During the quarantine, we heard about many festivals and museums that lost as much as 50 percent of their sponsorship revenue. There are no measures to compensate for this loss of this sponsorship income. In many cases, mutual partnership commitments during the quarantine were simply suspended without any further knowledge of how to proceed. We are glad that the friendship established since the opening of MO revealed a truly patron-minded approach of Švyturys–Utenos Alus during this difficult time – to continue the partnership even when the cultural sector is submerged in uncertainty. These loyal partners enable us to offer MO visitors new forms of experiencing art, such as a new cycle of events "The Art of Being"," says Milda Ivanauskienė, Director at MO.
"We have a long tradition of patronage, so we know that cultural projects need support not only when they receive awards or attract the audience's attention. It is especially vital when it is difficult and unclear about what will happen. What we retain today we will enjoy in the future, too. We are impressed by the fact that MO did not get lost during this crisis and even when closed, it found its way to act and continue its mission," says Rolandas Viršilas, General Director at Švyturys–Utenos Alus, the sponsor of MO Museum.
First event of new MO season – "The Art of Love"
Starting this September, MO Museum is launching a new series of events, "The Art of Being". Each month, MO visitors will be offered a variety of topics, guests, inspiring meetings, and meaningful experiences. The topic for September is "The Art of Love".
On 20 September at 6 p.m., MO Museum invites you to a creative meeting of two Kostas Smoriginas. Together with them, we will talk about love for the profession, different experiences on stage and most importantly – the relationship between father and son. The talk will be moderated by director Dalia Ibelhauptaitė.
In September, the topic of "The Art of Love" will be continued during other events. A creative workshop will take place on 28 September. Photographer Algimantas Aleksandravičius will talk about photography,  in particular, the art and genre of portrait photography and will reveal all the secrets of it.
The format of the "Date with an Artwork" previously presented by MO Museum is reintroduced. This date is actually a meeting with both the art and a famous person who interprets one artwork in his or her own way. On 28 September, MO will invite you to a date with Vaidotas Valiukevičius, leader of the Roop. The work he has chosen from the MO Collection will be the starting point for the conversation and discussion with the audience.
The MO Museum team wants visitors to get to know the art in a pleasant and safe way. Therefore, the number of participants during events and workshops is limited. We invite you not to miss the opportunity, follow the information and purchase tickets in advance at bilietai.mo.lt.
Events to take place every month
"The Art of Being" cycle will continue each month. In October, when MO Museum will celebrate its second birthday, visitors will be invited to "The Art of Celebrating", in November – "The Art of Creating" and in December – "The Art of Giving" event.
All events will include meetings with opera soloists and the VCO creative team: Edgaras Montvidas, Asmik Grigorian, Juozas Statkevičius, Marijus Adomaitis and others. Creative workshops with Andrius Zakarauskas and Violeta Bubelytė will take place. MO Museum visitors will be able to enjoy the "Date with an Artwork" with Beata Nicholson. The programme of events is still being shaped and will be announced every month. Follow the news on mo.lt