MO Museum travels around Lithuanian communities: Visual thinking educational sessions open up new opportunities to get to know oneself and others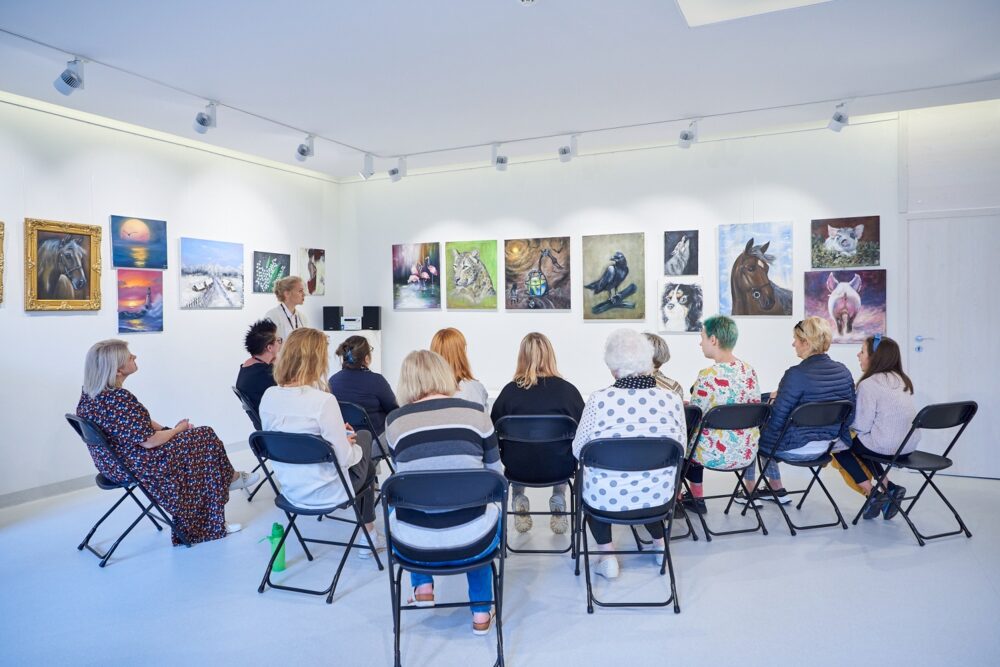 "I saw myself through the eyes of another person".
"I saw myself through the eyes of another person," "This was like a therapeutic session when we were free to analyse and ask questions," "Each of us discovered something new within ourselves," – these were the emotions shared by communities that took part in MO Museum educational sessions this summer.
Educational sessions based on the method developed by MoMA's educator and psychologist
The art education method developed by an educator at MoMA Museum (USA) Philipe Yenawine and psychologist Abigail Housen has been actively and successfully applied at MO Museum since its opening. This summer, various national communities could try this out when MO Museum together with the British Council in Lithuania implemented the project "Exchange of Visual Thinking in Art" and invited community members to analyse current topical issues and get to know themselves as well as others. From September, educational sessions will also be tested by school pupils.
"Visual art is a great starting point for conversation. The artwork becomes the guide of this conversation. The methods used by the educators at MO Museum create favourable conditions for daring to speak even to those who are timid or feel uncomfortable. Participants analyse what is seen in the work of art – not only does this enable and help to overcome the initial barrier of "I do not understand", but also reveals that we see things differently, so discussion takes place, arguments and opinions are exchanged. We notice that the participants of the educational session particularly appreciate the opportunity to stop for a short time, analyse, interpret and hear the other person freely and without any preconceived notions. In today's fast-paced world, this is very important," says Milda Ivanauskienė, Director at MO Museum.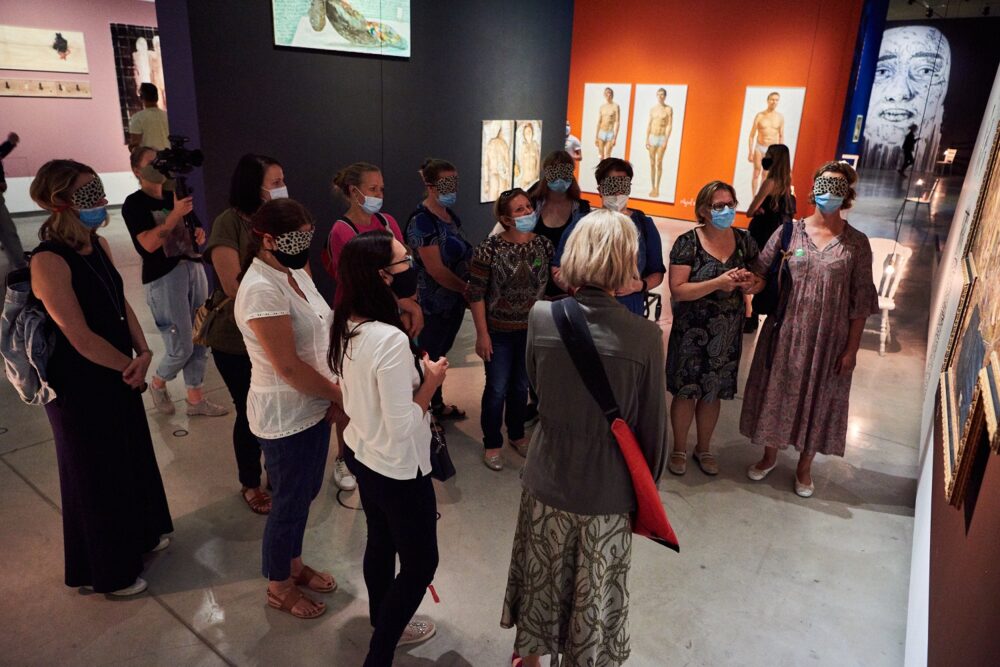 Representatives of various ethnic communities have discovered themselves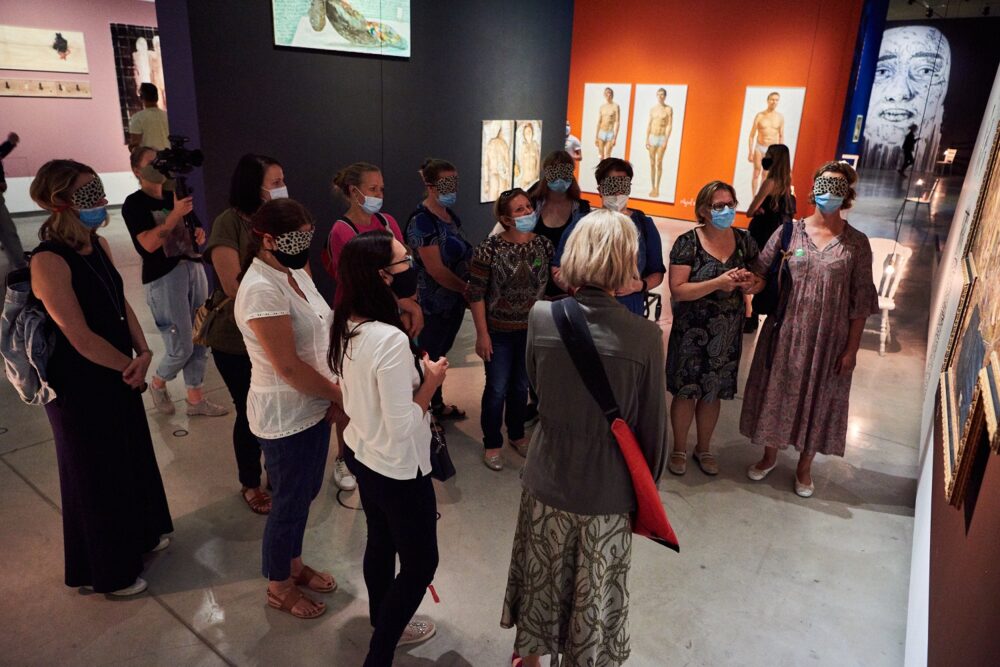 The educational sessions that took place throughout the summer have attracted representatives of various ethnic communities. Romanian, Tatar, Moldavian, Jewish, Russian and Polish communities together were looking for new experiences at the Museum. During four sessions, these communities, together with MO educators, practised the basic principles of the visual thinking method and by applying them trained visual, critical and creative thinking. Through a variety of tasks, community participants had the opportunity to get to know each other better, develop their communication and public speaking skills, and find inspiration in the exhibition spaces of the Museum.
The educators of MO Museum have also visited the communities of Ignalina, Kybartai, Marijampolė, Trakai, Šalčininkai, Šilutė, Švenčionys, Švenčionėliai and Visaginas.
By inviting to view the works of art without preconceived notions or expectations, MO Museum educators have opened up new ways for the participants on how to interpret artworks. Most importantly, the participants claim they have learned more about who they were, explored the environment, themselves and others, and participated in a kind of therapy in the Museum.
"It does not seem to be the case in real life – we were free, without any preconceptions".
"You realise that what one word means to you can actually mean something completely different to somebody else," said one of the community participants during the closing event.
"It does not seem to be the case in real life – we were free, without any preconceptions," another participant shared his impressions.
"I really enjoyed discussing about the picture by including our emotions. It was interesting to listen how others speak and what they feel compared with my own feelings. I really appreciate the fact that we spoke up about our feelings, thoughts and shared them with others," said one of the community representatives.
Visual thinking educational sessions will appear in schools from September
From September, MO Museum educational sessions will take place in various schools: Kalvarija Art School, Tauragė Art School, Kalesninkai Mykolas Rudzys Secondary School, Trakai District Rūdiškės Gymnasium, Riešė Gymnasium, Vilnius Levas Karsavinas School, Vilnius Atgaja special school, Vilnius Alexander Pushkin Gymnasium and Vilnius Sofia Kovalevskaya Gymnasium.
Age does not matter for these sessions as they are all based on the dialogue between the participants and educators, and each session can be unique and different. The participants themselves interpret the artworks differently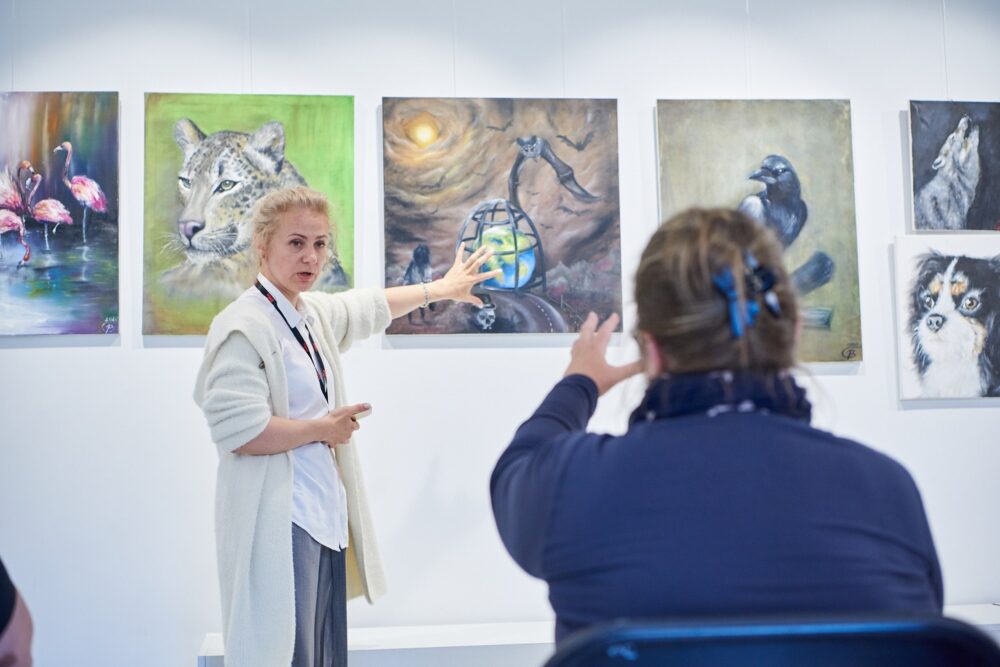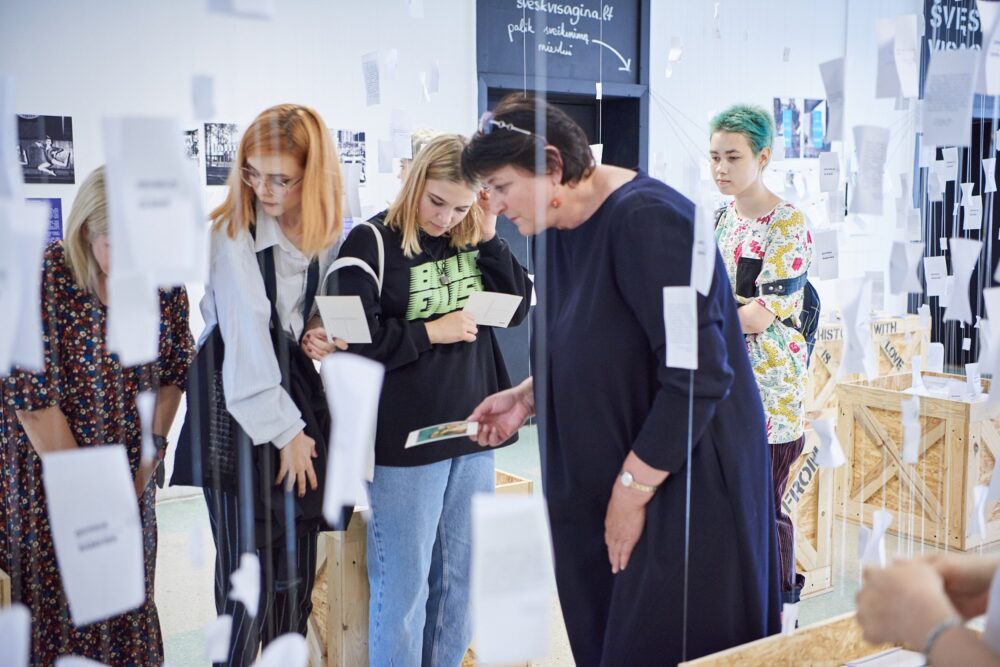 Hear, listen, speak and ask questions
Through contemporary art and educational programmes run by MO Museum, the project "Exchange of Visual Thinking in Art" aims to develop critical thinking, promote dialogue, the habit of hearing and listening to the opinions of others, to discuss and not to accept one truth as final. During the project, participants are encouraged to talk and ask relevant and sometimes possibly awkward questions, as all opinions are valid and welcome.
Educational sessions are based on the strategy of visual thinking. It is an art education method developed by the educator at MoMA Museum (USA) Philipe Yenawine and psychologist Abigail Housen and used by MO educators at MO Museum. During the sessions, the educator and the participants are involved in a constant dialogue, and a universal system of questions is used, which encourages participants to observe and describe, as well as interpret based on arguments, and reason coherently.
The educational project is implemented under the People to People Programme in cooperation with the British Council in Lithuania.