Villa Lituania
Entrance with a MO Museum ticket.
MOdernists – free entrance.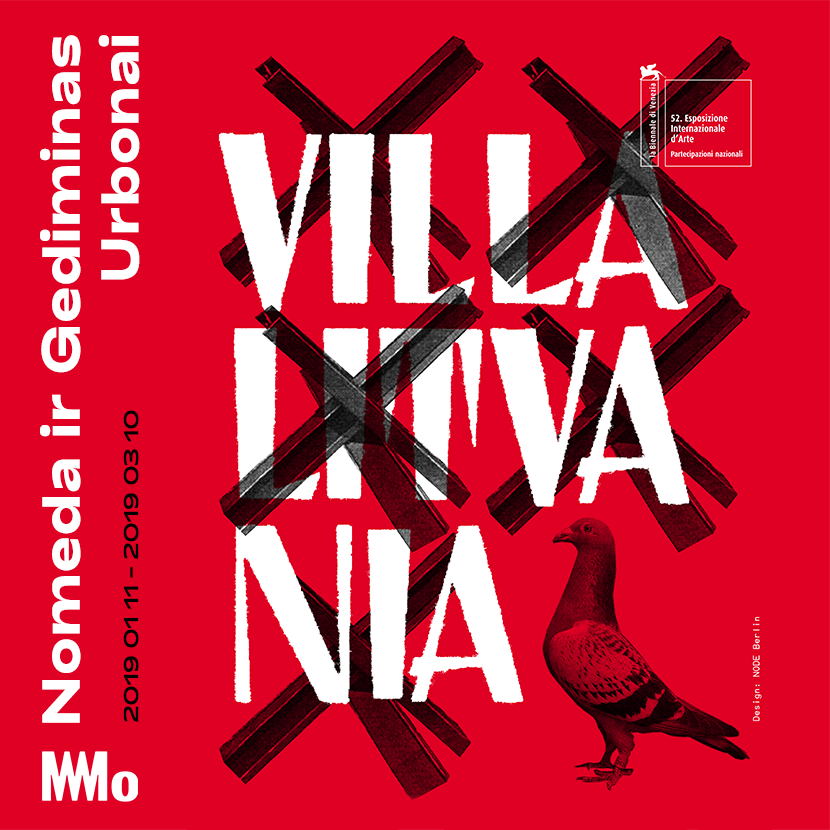 About the exhibition
Villa Lituania is a building in Rome that served as an embassy for Lithuania during the interwar period but that was appropriated by the USSR after Lithuania's occupation. Artists, the recipients of the Lithuanian National Prize for Culture and Arts, Nomeda and Gediminas Urbonas drew attention to the fact that to this day the building still belongs to Russia by organizing a symbolical pigeon race between Venice and Rome. The project includes architectural model of Villa Lituania and video works, which represents history of ambassadors Lozoraitis's family, the research of graffities in Rome which protested Lithuania occupation and pigeon breeders' situation in Lithuania.
The artwork represented Lithuania in the Venice Biennale in 2007 where it received an Honorable Mention by the jury. The project will be reconstructed at MO Museum.
Authors: Nomeda & Gediminas Urbonas
Coordinators: Ugnė Paberžytė, Deima Žuklytė-Gasperaitienė
Exhibition architects: Jurga Daubaraitė, Jonas Žukauskas
Graphic design: Gailė Pranckūnaitė, Domantė Čyžaitė
Exhibition installation by: Antanas Gerlikas, Rokas Valiauga, Aistis Kavaliauskas, Justinas Dūdėnas
The project Villa Lituania represented Lithuania at the 52nd international art exhibition La Biennale di Venezia in 2007.
It was commissioned by the Contemporary Art Centre (CAC) and presented by the Ministry of Culture of the Republic of Lithuania.
Acknowledgements: Danutė Butkienė, Liučija Čarneckytė-Jasiulevičienė, Catherine Hemelryk, Giedrė Jankevičiūtė, Saulius Kubilius, Kęstutis Kuizinas, RIP Kazys Lozoraitis, Sondra Litvaitytė, Petras Mazūras, Gediminas Stoškus, Elė Vilkienė, Ona Volungevičiūtė, Dalius Žižys, Sculpture department of Vilnius Academy of Fine Arts, Community movement "For Lithuania without quotation-marks"
"Villa Lituania is an insightful and subtly humorous investigation into the notion of the pavilion and the meaning of national identity, engaging the spectator within a compelling narrative." – special citation, the award jury, 52nd La Biennale di Venezia.
Exhibition team
Commissioner and curator: Simon Rees
Curatorial assistant: Julija Fomina
Artists assistant and architect: Julija Reklaitė
Camera and studio: Giedrius Ilgūnas
Fashion design: Sandra Straukaitė
Design: NODE Berlin Oslo
Animation: Vytautas Narbutas
Programming: Saulius Švirmickas
Head technician: Donatas Jankauskas, Mindaugas Masaitis
Pigeon race organizers: Algirdas Baniulis, Eros Carboni, Gorelov Vladimir Albertovitch, Gediminas Meiliūnas, Vytautas Sabaliauskas, Lithuanian Pigeons Sport Federation
Films used: Kazys Lozoraitis' family archive, The Office of the Chief Archivist of Lithuania and Archive of LRT.