#MOstandswithUkraine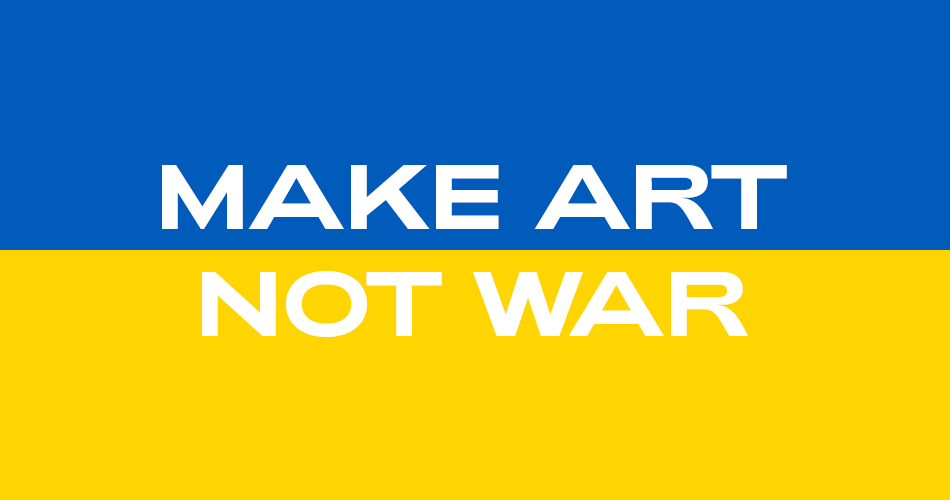 We've been supporting from the start
We support the Ukrainian people with all our hearts. Since the first days of the war in Ukraine, by loudly saying MAKE ART, NOT WAR, we have been trying and striving to contribute to the support of Ukraine, as well as to the emotional health. We must remain calm, united and provide help to those who need it most. This is especially important today.
WHAT ARE WE DOING AND WILL CONTINUE TO DO FOR UKRAINE?
Guided tours for Ukrainians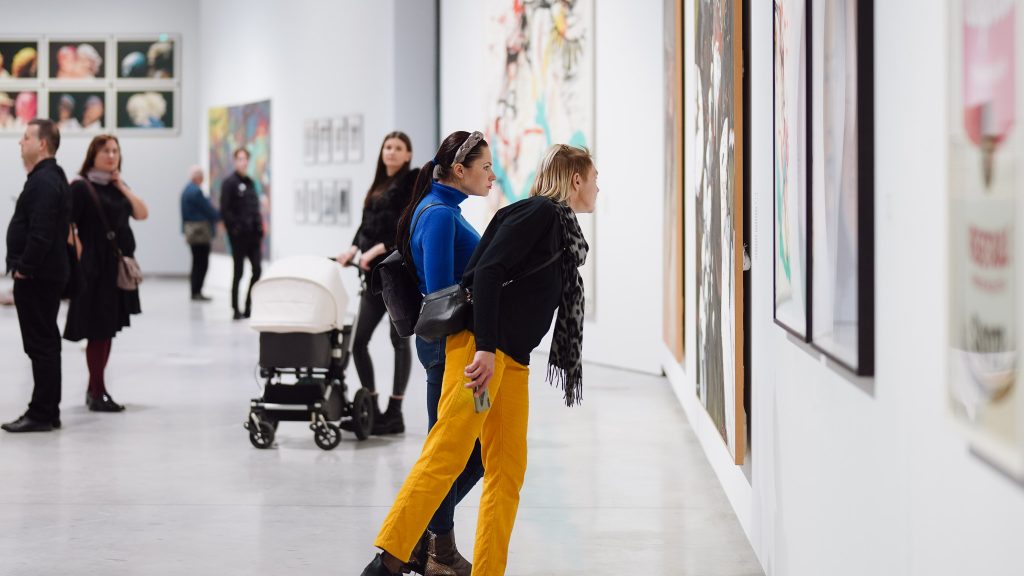 In MO Museum, we were inviting Ukrainians to participate in the guided tours in the major exhibition "The Meeting That Never Was". The tours were free of charge.
Financial support for Ukraine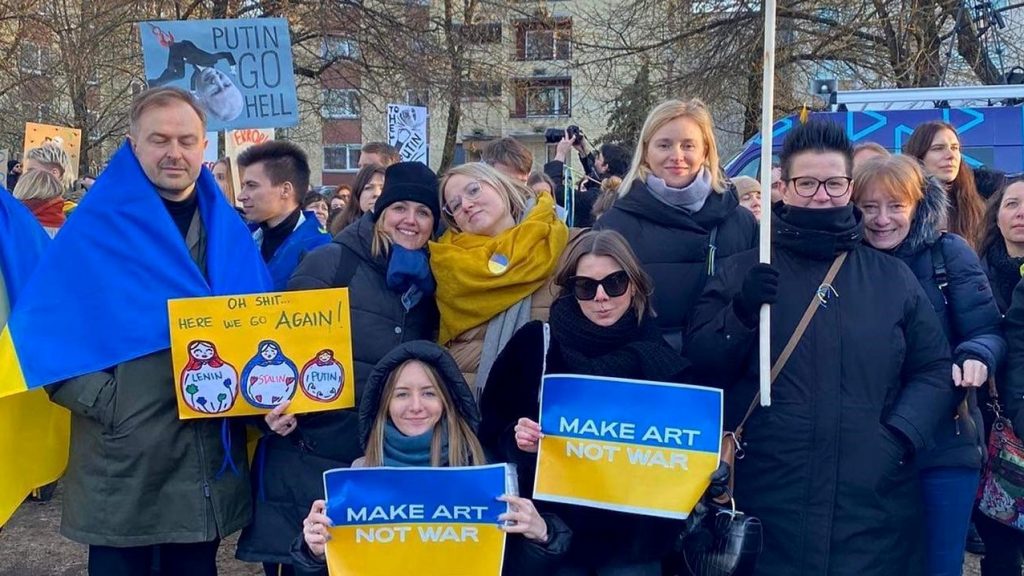 Thank you to all the visitors of the MO Museum who helped us raise € 8,812 for the Blue/Yellow Foundation in the first week of the war in Ukraine. In this way, everyone who sought solace in the museum could also contribute to supporting this country, rich in people and spirit.
FROM THE START OF THE WAR, WE HAVE DONATED A TOTAL OF € 27,340.
Together, until the victory!
You can continue to contribute to Ukrainian citizens when you visit MO Museum. When you buy a standard MO Museum ticket and choose it with an additional € 2 or € 5 donation, you not only support the events and activities of the MO Museum but also contribute to a free museum ticket for Ukrainians.
With you, we can support more strongly. Thank you!
We acquired artworks in support of Ukraine
We can support Ukraine by buying (and artists, by selling) artworks, and donating the money to Ukrainian foundations. One of the new acquisitions to the MO Collection in March arrived in this manner.
Vytautas Viržbickas' sculpture, "Pokyčių Vėjelis" (Breeze of Change), was included in MO's collection in exchange for € 6,000 donated to the "Blue/Yellow Foundation". More in LT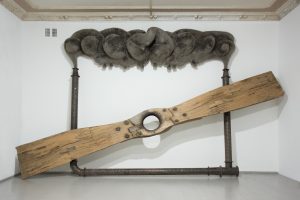 Vytautas Viržbickas
Breeze of Change, 2018
MO Collection
Special film screenings. The Earth is Blue as an Orange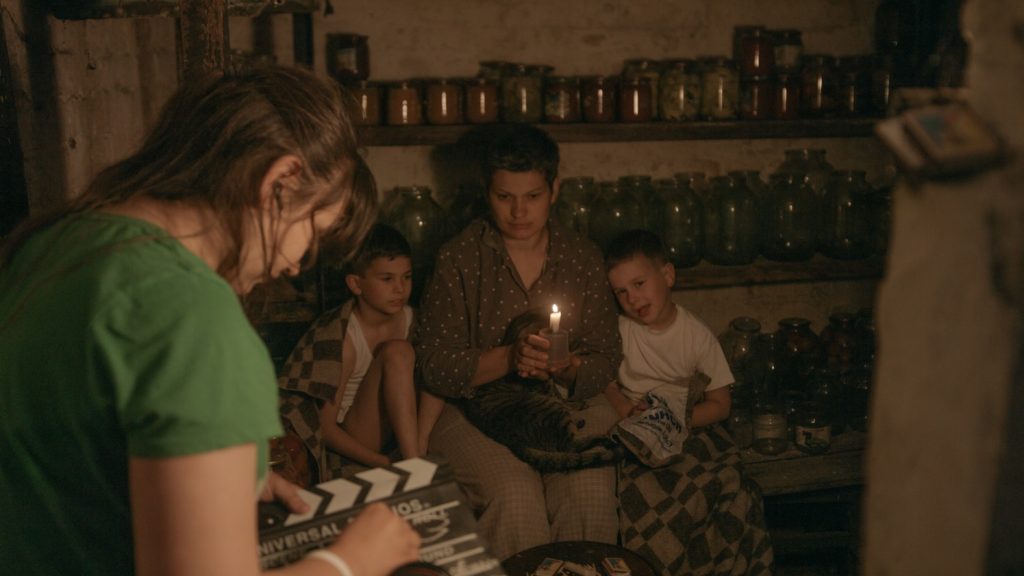 On 11 March, we hosted two screenings of the film "The Earth is Blue as an Orange" by the Ukrainian director Iryna Tsilyk.
Thanks to everyone who came to these film screenings. We sold 196 tickets and all the funds raised – € 1,568 – are donated the Blue/Yellow Foundation and the family of the film's heroine Anna.
The emphasis on emotional and mental health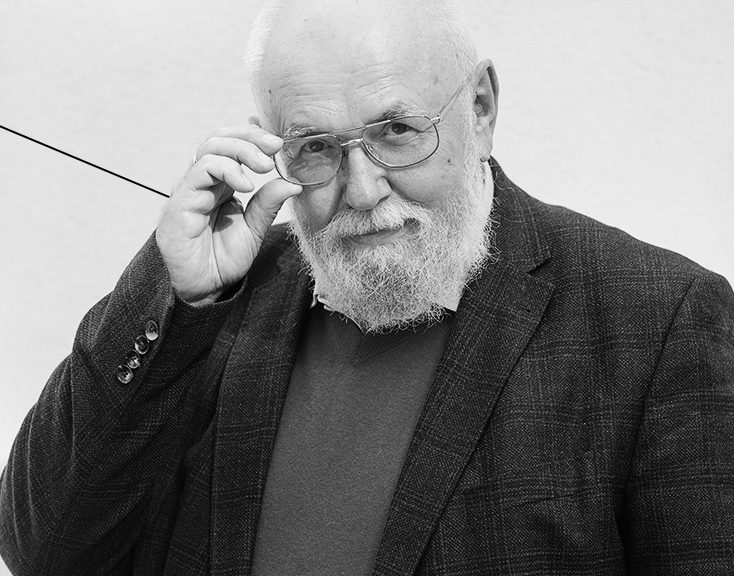 Lecture by psychotherapist Eugenijus Laurinaitis
In this time of war crisis, it is very important to take care of our emotional health, to calm down, not to panic, and to concentrate on our daily activities.
That is why on 5 March we invited everyone to a lecture by psychiatrist and psychotherapist Prof. Dr. Eugenijus Laurinaitis on anxiety in emergency situations and how we can reduce it.
The night will pass. Ukrainian poetry readings
On 25 March we invited MO visitors to Ukrainian poetry readings, where we read together with Ukrainian poets who have taken part in literary events in Lithuania.
The ticket for the event was a donation to the "Ukrainos Namai" for the victims of the war. Thank you very much for everyone who came to listen!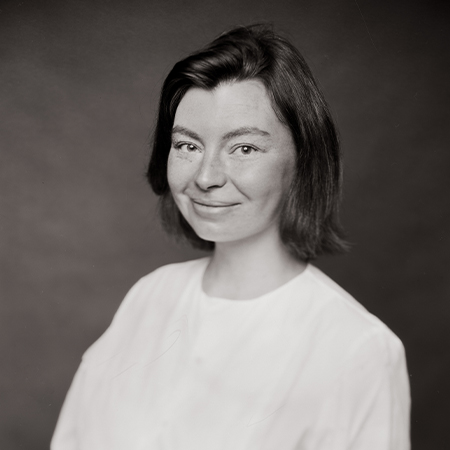 Talk with Ukrainian art critic Lizaveta German
We create a friendly and comfortable environment for Ukrainian people to speak at the MO Museum.
Therefore, on April 8th, we invited the public to a virtual talk about art during war times with Lizaveta German, a Ukrainian art critic and one of the curators of the Ukrainian pavilion at the Venice Biennale, partnered with The Naked Room Gallery in Kiev. Lizaveta has just left Kiev.
Tickets to the talk are a € 5 donation. All the money raised from the tickets was donated to the Ukrainian Emergency Art Fond.
Lecture about Ukrainian women in art with Valentina Ryvlina | Ukrainian Days
We joined the Ukrainian Days programme organized by GO Vilnius. On May 14th we invited the public to a lecture about Ukrainian women artists with Valentina Ryvlina from Ukraine.
The event was free of charge for war refugees from Ukraine. The lecture was also held in Ukrainian.
Exhibition of Support: "Ukraine: A Breaking Point"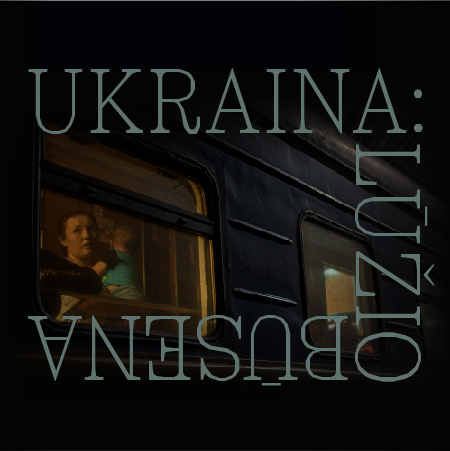 Together with Inconvenient Films and NARA, we held the audio-visual exhibition, "Ukraine: A Breaking Point", in our event space from May 19–25th. This exhibition brings together stories, photographs, and testimonials of survivors of the Ukrainian war gathered by the LRT photojournalist, Benas Gerdžiūnas, and NARA multimedia curators Denis Vėjas and Tomas Valkauskas.
Thanks to all the visitors, € 2,002.96 was collected to support Lithuanian humanitarian missions to Ukraine by "A Drop in the Sea".
Visiting museum for free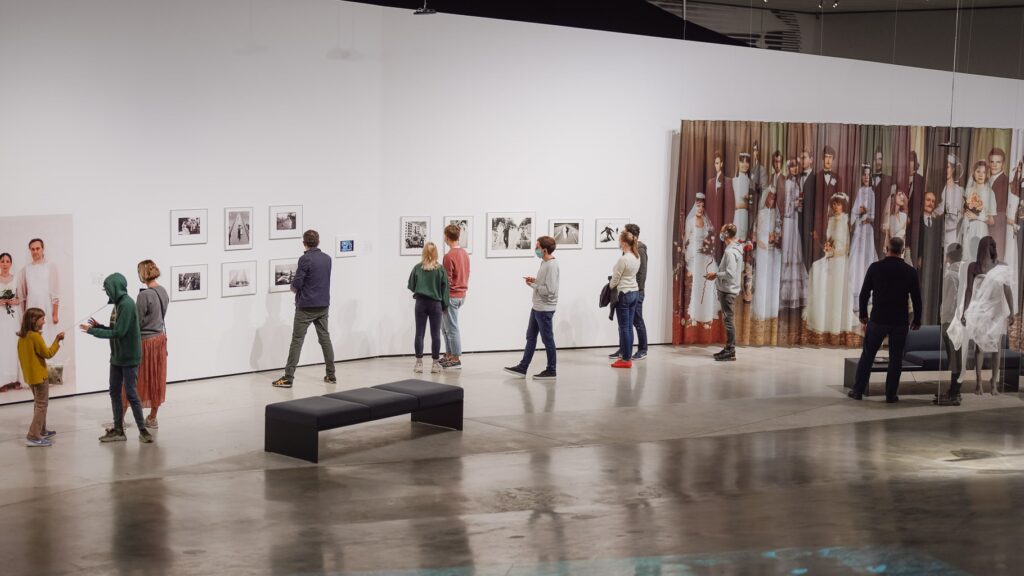 We want everyone to be able to find peace in a museum. Especially those who are in desperate need of it right now. As a museum, we are always ready to provide it.
That is why all refugees from Ukraine and Ukrainian citizens living in Lithuania can visit MO Museum for free.
If you would like to contribute to Ukraine, please fill in the Strong Together form:
Goods in the MO Shop to support Ukraine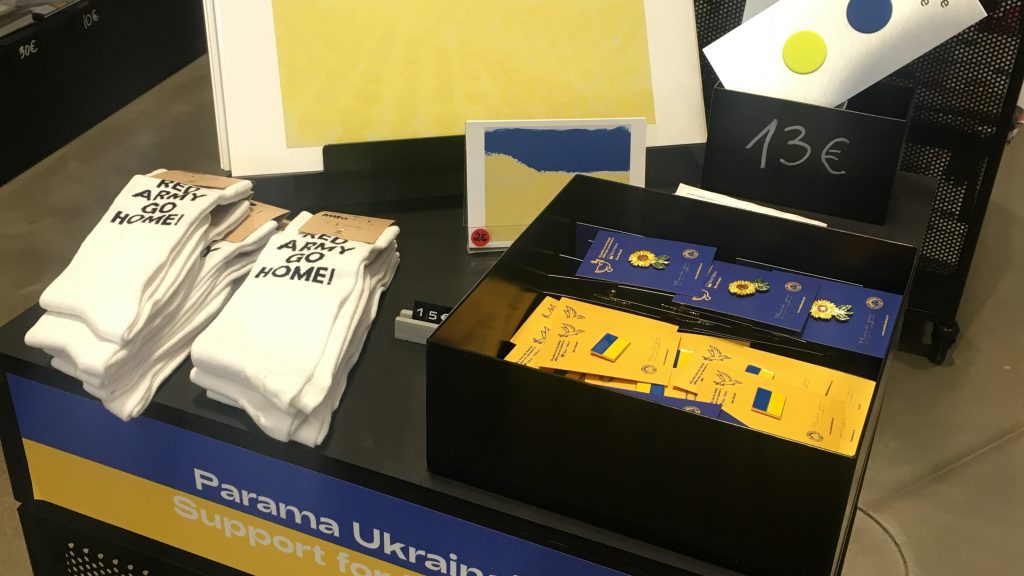 To support and spread the word!
In the MO Shop you will also find a special table with MO goods that spread the message of support for Ukraine.
These include reproductions and postcards of Lithuanian artist Eglė Gineitytė's artwork, "RED ARMY GO HOME" demanding socks, and accessories from MO's friends, MARCH and Make Heads Turn.
MO goods can be found not only in the MO Museum's shop but also online MO e-shop.
All the profits from Ukraine-supporting MO goods are donated to the Blue/Yellow Foundation.
MO books for Ukrainian children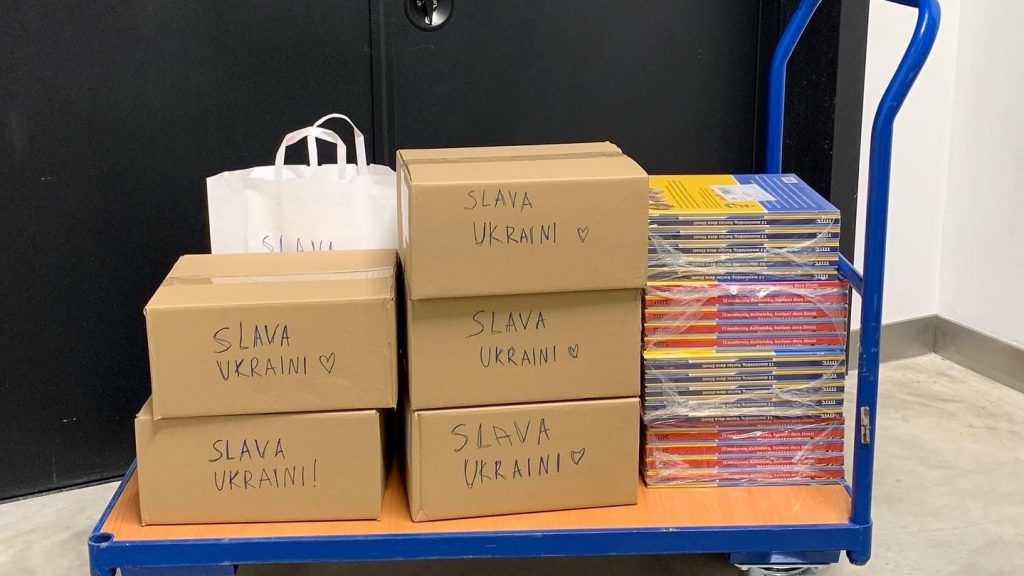 For Ukrainian children coming to Lithuania, we collected MO books, coloring books and visual card games.
We want to contribute to the first days of Ukrainian children in Lithuania with to the light and soothing activities of art.
Relations and cooperation with art museums abroad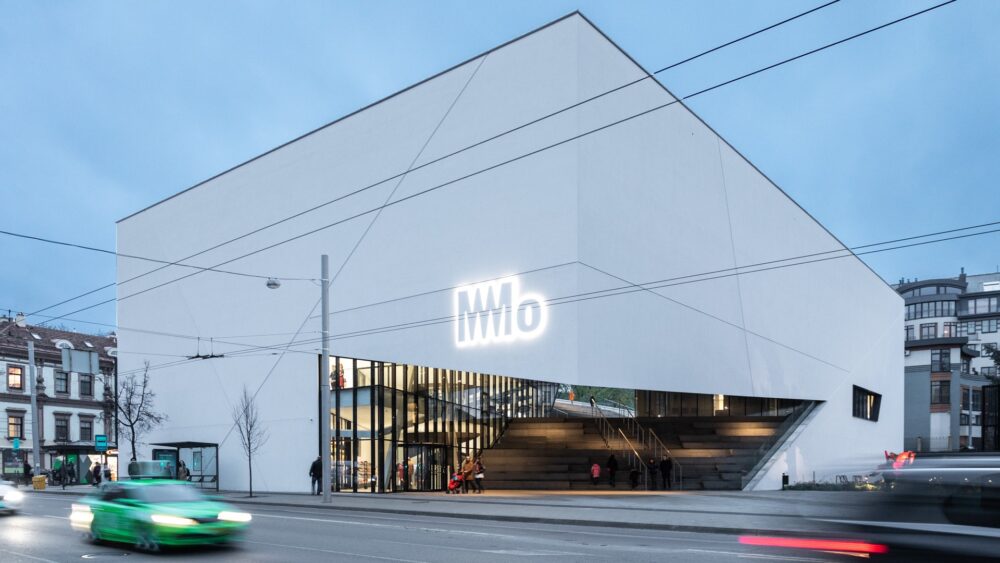 Since the early days of the war in Ukraine, our colleagues have been in contact with museums and partners in Europe, urging them to take a stand, to react and to not be indifferent when war is happening right next to us.
We are still in touch, and we invite them to contribute to the aid to Ukraine and to keep talking about this issue. We are all strong together!
Please also note that MO Museum has no partnerships with Belarusian or Russian art institutions, so no cooperation is taking place.
Calm down and support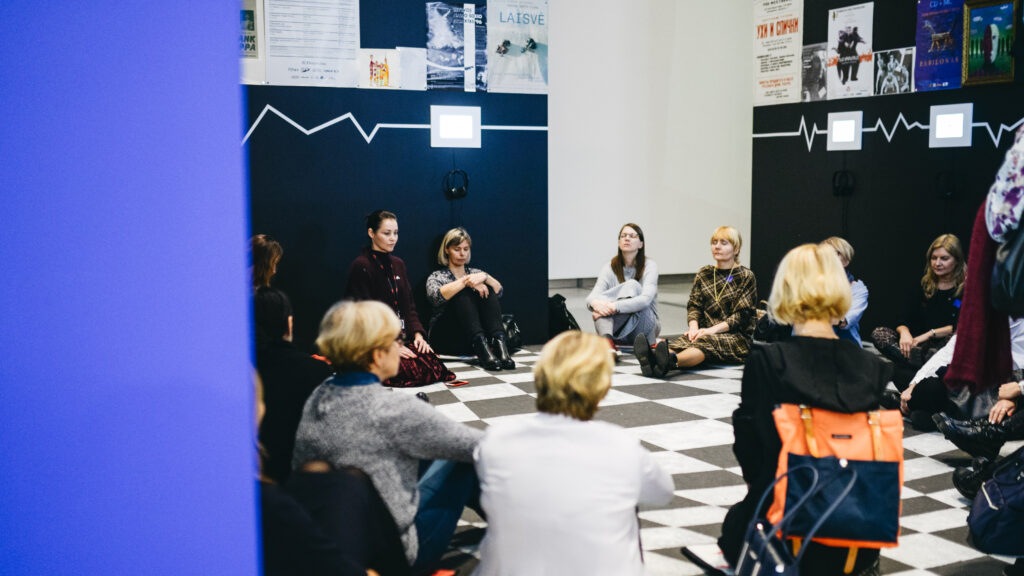 We need to protect our emotional health, talk, take time out of our normal routine, maintain social contacts and relationships. All this will help us get away from anxious thoughts, reduce stress and restore a sense of normality. That's the advice we give you, and that's the advice we give ourselves!
Slava Ukraini!
Information for Ukrainian citizens
Here you can find the information by the Government of the Republic of Lithuania on what help or services can be expected from war refugees from Ukraine:
Lithuanian
Ukrainian
English
Russian
Want to help or volunteer?