MO Conversations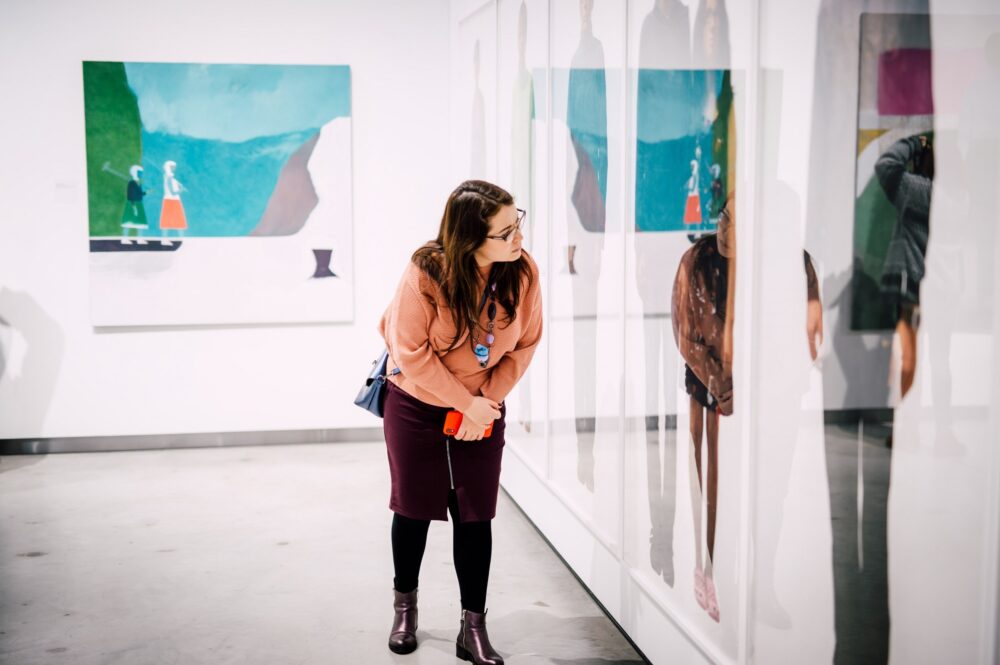 Taking a break! TBC
Our minds were blown. I love and appreciate art; I am not an artist. Karen, with her VTS questioning and firm intellectual hand of guidance through the world of these Lithuanian artists, has made me able to see ideas I was unaware existed.
– Allen (USA), participant of MO conversations
We invite you to a wholesome online image discussion series – MO Conversations!
Take a moment to yourself and enjoy an online conversation about one our art pieces. It's a 30 minute mediated discussion, followed by a 30 minute reflection (optional) – 10 persons per group.
Join our museum educator Karen Vanhercke in a conversation about one of our artworks. There is no right or wrong answer here, the exercise based on the visual thinking technique helps you look at art and have your own opinion about what you see.
Dialogue
Through conversation we connect to the things we see, but also to our own imagination and  the people around us. In short: to the things that are important in life!
Video and microphones ON 
"Have your own opinion" has been MO Museum's slogan ever since it opened in 2018 and that is why we ask our online visitors in the MO Conversations series to turn their video and microphones ON! We want to hear and see you because your reaction and smile says a lot!
What is going on in this picture?
We use an open discussion technique called VTS (visual thinking strategy), and encourage you to speak your mind freely about what you see. We are in the conversation only to hold your thoughts and to thank you for your brilliance! If your curiosity about the art is not satisfied after 30 minutes, please stay another while to ask us anything you would like to know about the art!
About the technique
"Look and then look again" said Philip Yenawine, founder of the Visual Thinking Strategy – and that is exactly how we start each session. We invite the participants to take a good long look at the art work, without prejudice or preconceived notions. We believe that this is the best way to connect to the work and to become curious about it.
What starts out as a word game often results in a lively discussion – because people do see things differently.  We search for a common language focusing first on form, composition, colour, materials and eventually: meaning. It can be quit a challenge sometimes to accept different points of view and that is why our mediators are trained to facilitate story telling. Their purpose is to help the participants to construct their own 'truth' about the pictures.
The aim of this activity is to create a platform for unique and personal stories but also to use the group's momentum to inform each other with relevant knowledge about the art. The group's specific input will challenge our mediators to reach beyond the traditional art-historic interpretation with a fresh outlook on the art every time. This kind of cultural reflection process is an empowering experience for all involved.
The time spent will likely inspire you to become more outspoken about culture and more mindful about cultural difference.
What do others say
It's like we're developing friendships with these artworks. I find myself wondering about them at odd times of the day.
– Tania (Mexico), participant of MO conversations
Amazing how nationalities and borders are relatively unimportant when it comes to talking about art.
– Anne (Belgium), participant of MO conversations
I have not had an opportunity to view or discuss any art in quite a while; and I found this refreshing my mental state!
– Signe (USA), participant of MO conversations
Delightful to be able to look at art with such an open mind and to learn about it in the process.
– Julia (Belgium), participant of MO conversations
Curious about the MO Collection? Take a look at it