Lake Full of Stars
Last month to see a unique exhibition – an exhibition for children "Lake full of Stars"!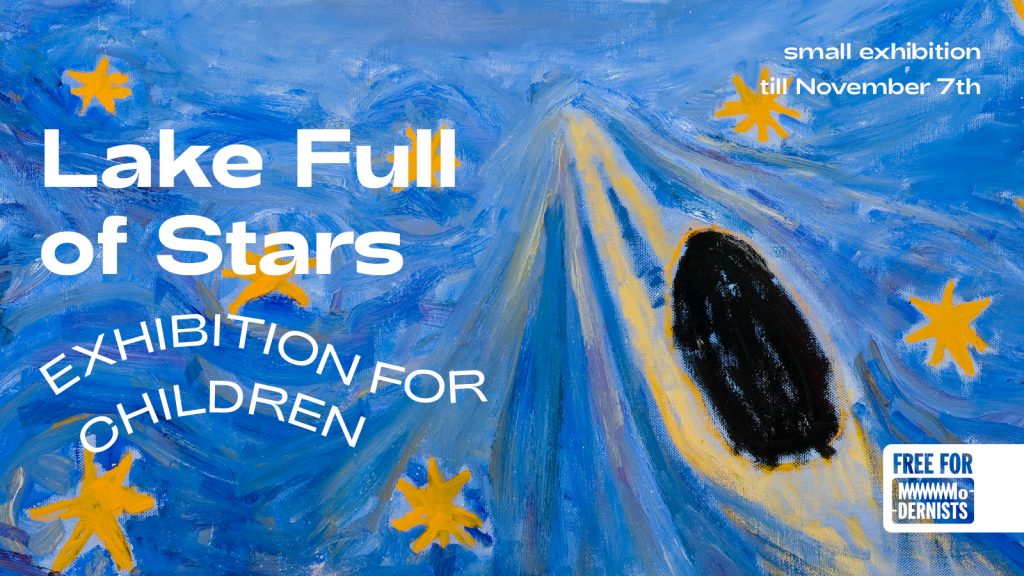 Specifically designed interactive spatial solutions will encourage children to experience the exhibition with all their senses. Children will have many opportunities to discover the joy and benefits of a creative relationship with nature as well as with art from the MO collection. This is an exhibition like no other at MO Museum!
Games, hands-on activations and different sensory experiences will allow children to know art and make nurturing connections with culture. Trying things out, experimenting and creating are presented as the key components to experiential learning. Parallel to this strategy we spotlight "dialogue" as the best way to strengthen children's cultural reflection. To facilitate the discussion we embedded the Visual Thinking Strategy developed at the MoMA Museum in various fun dialogue tools.
The exhibition is curated by MO Museum educator Karen Vanhercke. She has been organising experiential educations in museums for more than 15 years.
The exhibition features activities for children of all ages, as well as adults – those who want to get to know the exhibition together with their little ones or just reconnect with their childhood in a positive way.
Exhibition team
Curator – Karen Vanhercke
Architects – "Šilta šiaurė"
Exhibition installed by – Dominykas Šavelis
Coordinator – Iveta Jaugaitė
Textile created by: Justina Gražytė, Eglė Lekevičiūtė, Šarūnė Pečiukonytė (Kaltūnas) and MO Museum volunteers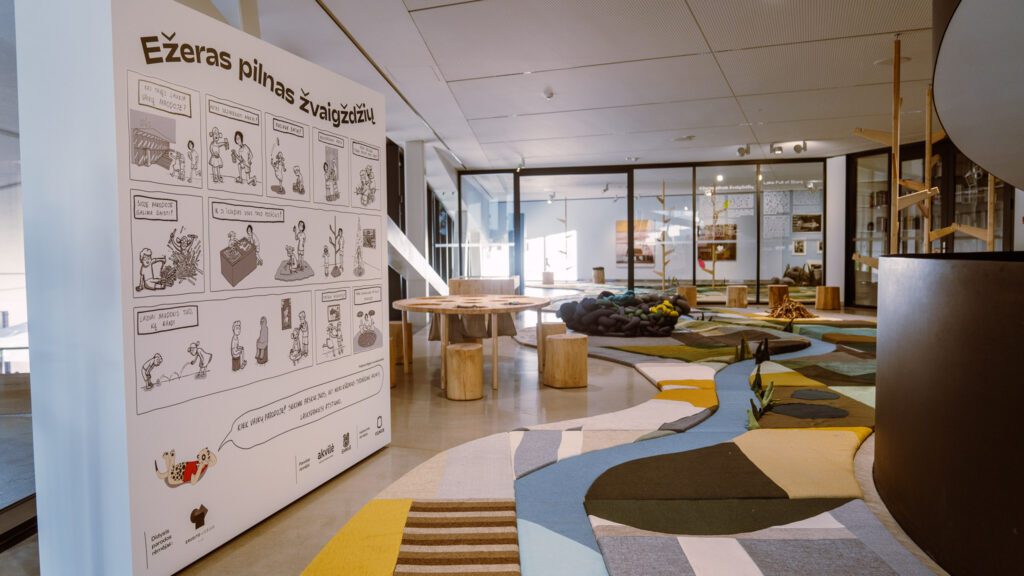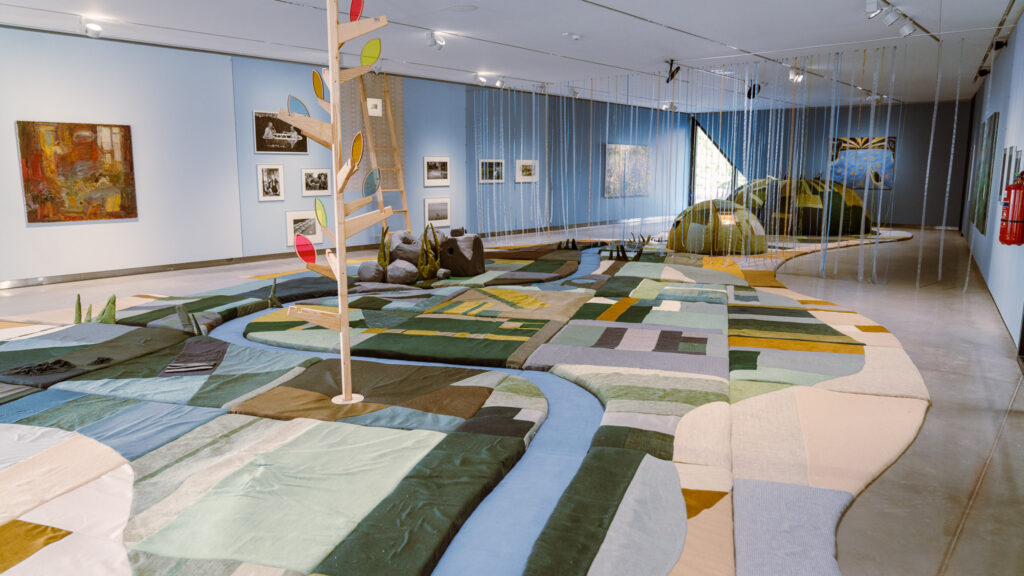 Understand art by playing
Art remains art, no matter who looks at it – whether it be children or adults. However, children apply different skills to unravel the meaning of an artwork. They employ more imagination and less analysis, they notice more sensory detail and less context. Their young minds develop constantly and their connection with the world – and with art – is flexible. Their learning takes place through observation, experiment, dialogue and creativity. In this exhibition we want to celebrate children's amazing ability to make sense out of art by emphasising the one interaction at which they excel and that combines all the aforementioned skills and that is: play.
Developmental psychologists confirm that play is how children understand the world around them and also how they come to terms with their inner world. The greater the diversity of their play, the greater their chances of solving all kinds of problems later on in life. The role of art museums in this is to provide a playground for the developing mind, but also to reconnect children with their senses, to model creativity and to encourage the use of the imagination as their number one reflection skill. Art museums are also a safe and predictable environment where children can experience their emotions and learn to express and control them. Safe because they are encouraged to put aside life's emergencies and to give full attention to a difficult and wonderful cognitive skill: awareness. Without judgement and without urgency, simply allowing the observation to unfold is a magical experience, but it takes practice. There are few places in society where cognitive diversity, sensory experience, mindful observation, creative validation, rich imagination, and safe emotional expression can be practiced all in a single visit. Yet the package of cultural benefits is not complete until we add dialogue to it. John Dewey's  experiential learning theory explains how a complete cycle of experiential learning involves: "reflection upon the experience". In this exhibition we want to emphasise that dialogue between educators, parents and children as one of the most wholesome educational tools known to humankind.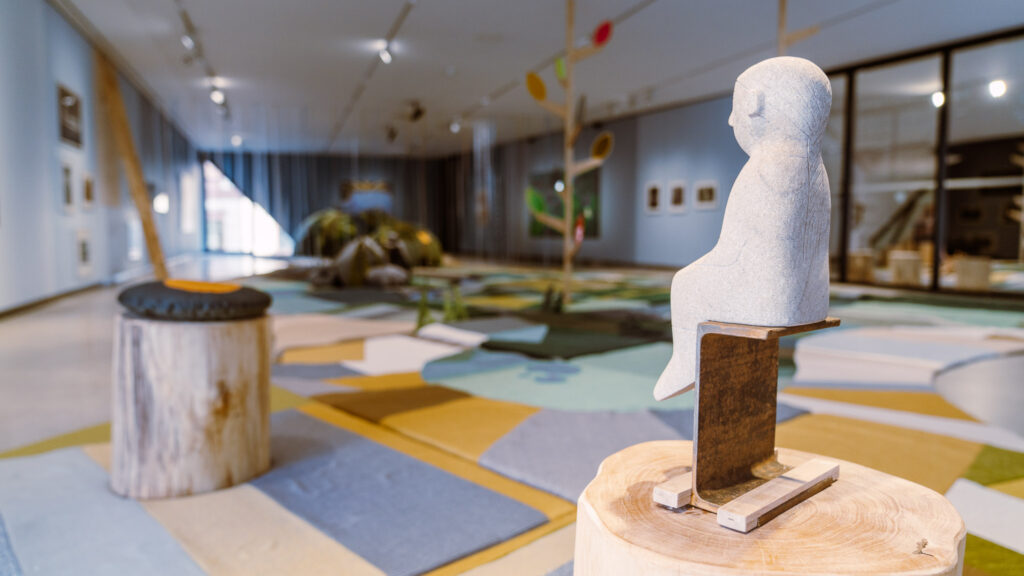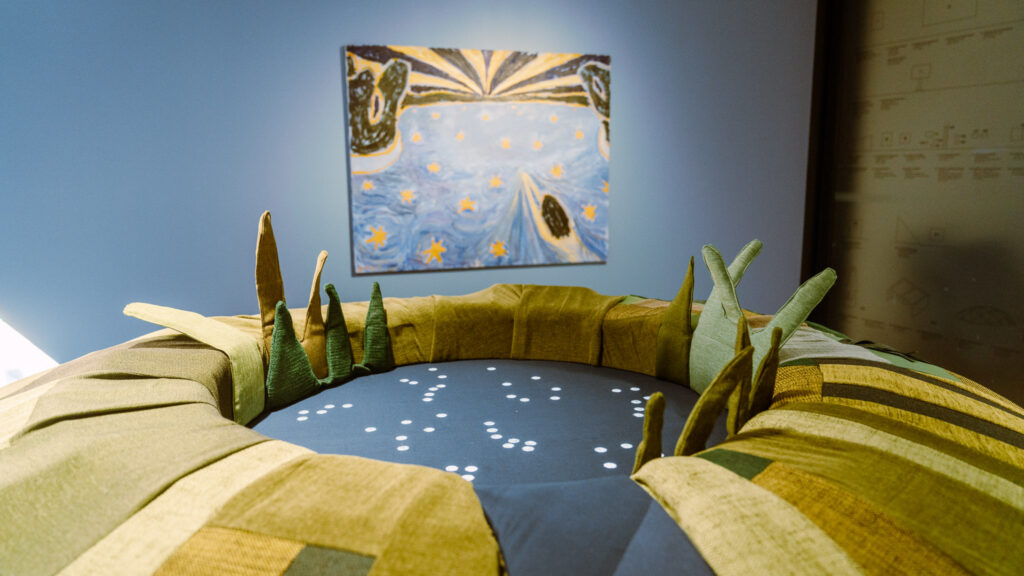 When contemplating the benefits of art for children, we understood that creativity (play) is the drive and dialogue is the steering wheel of everything worth learning: facts, emotions, aesthetics, social skills, innovation and critical thinking. We also understood that a well developed creativity will sustain a well developed mind throughout adulthood. Lifelong learning is an attitude of creative discovery towards life for which the seeds are planted in childhood and watered throughout life.
In this exhibition there are several links with plants, water and various other elements from nature which serves as a general metaphor for sustaining human creativity, but which also allows us to take a stance towards the current ecological crisis: as a museum we invest in the imagination of children in the hope that in turn their imagination will in turn sustain our ailing planet. Art museums may be the best place in society to nourish the imagination of children, but nature is ultimately what will nourish our bodies and souls. It is for this reason that the artworks selected for this exhibition are not an exploration of a specific art movement or time frame, but rather of how artists creatively relate to this specific topic: the natural world and what they get from it.
Most of the artworks on display were not made specifically for children, as we maintain that all art is approachable for children, they just need specific tools and the freedom to interpret them. The artworks of professional artists serve as a jumping off place for children and adults to reflect on issues of their own, but also to create connections. Complementing the creative process of viewing art with hands-on making, specifically with natural materials, is to strengthen the link between art and nature. We believe that the synergy between art and nature is the quality of the experience: rich and sensory, aligning body and mind in the pursuit of understanding.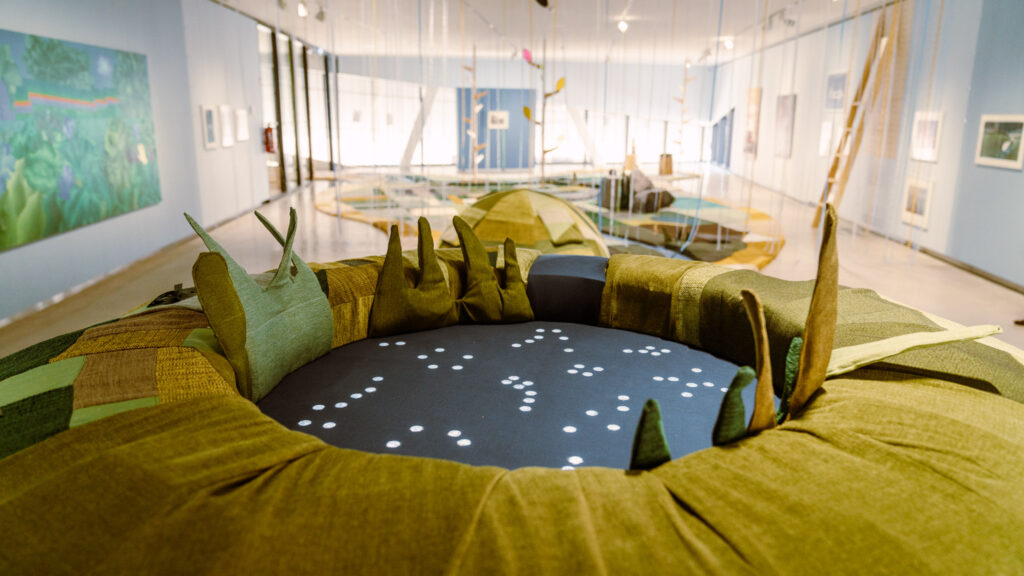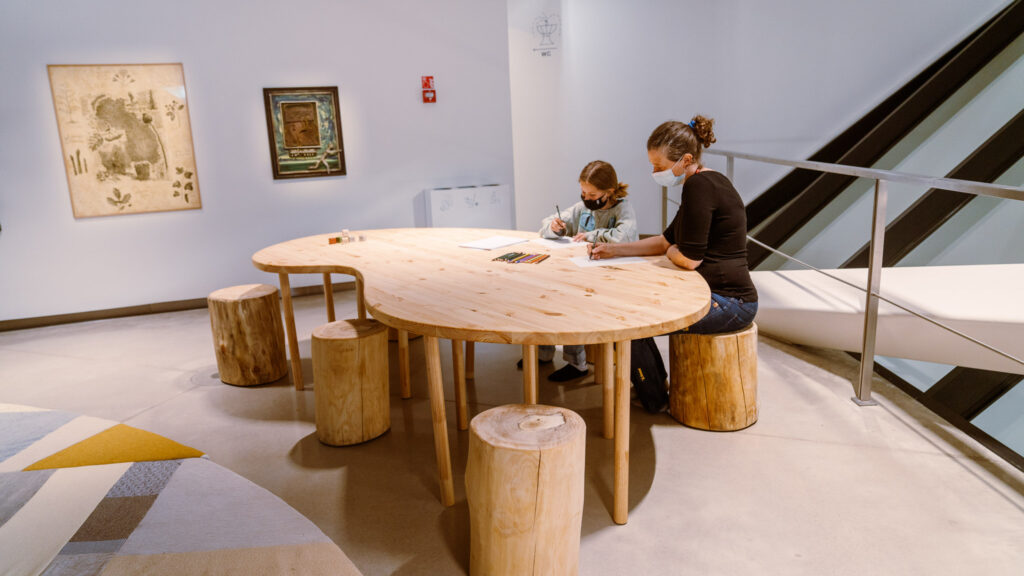 Exhibition curator's article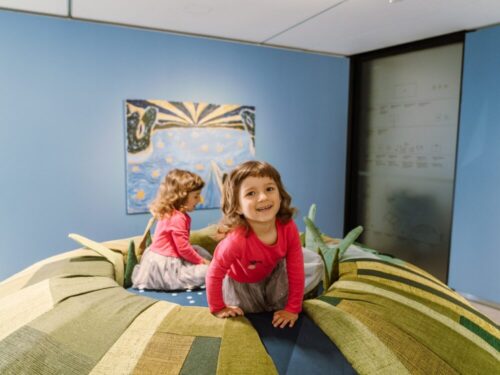 How do knowledge and culture complement each other? When to involve children into culture and what can adults learn from this process?
Karen Vanhercke, the curator of this exhibition and a long-term expert in education in museums, tells how does cultural reflection lead children to an open and curious attitude.
Also, in the text you will find the beautiful comics created especially for this exhibition by Miglė Anušauskaitė!
Major Exhibition Sponsor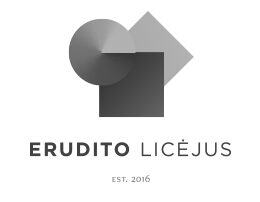 Exhibition Sponsors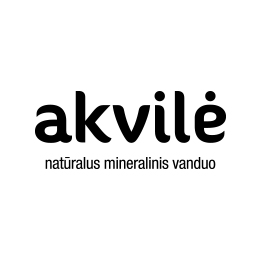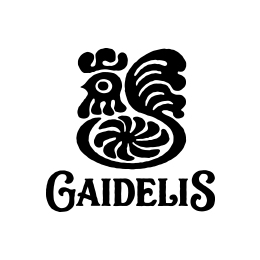 Institutional Partner