Our Selfie: Šarūnas Sauka
Entrance with a MO Museum ticket.
MOdernists – free entrance.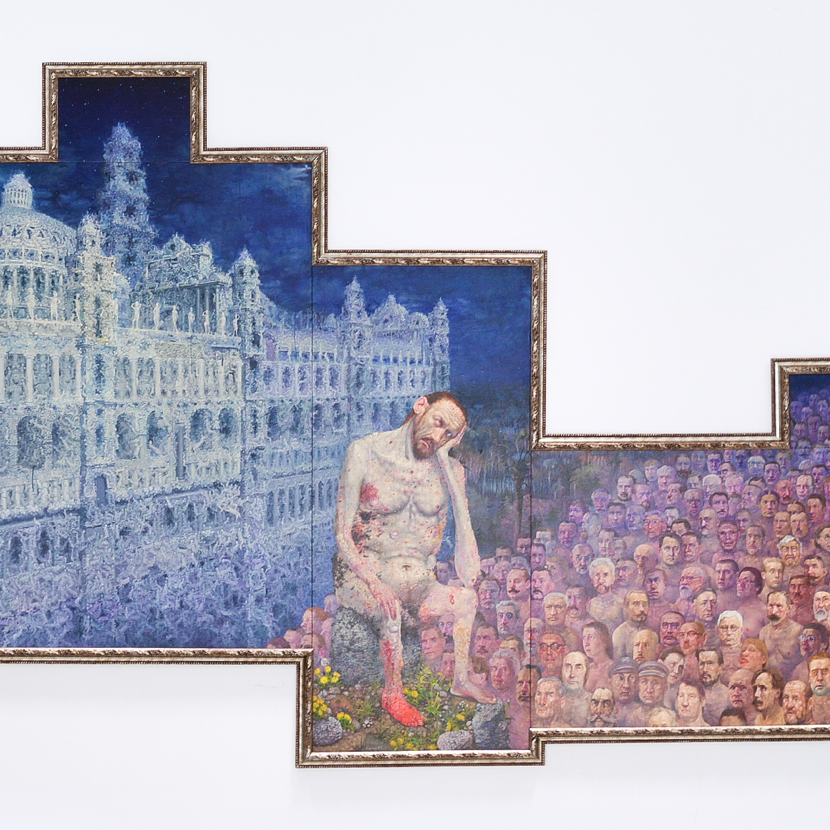 The famous painting by Šarūnas Sauka enriched small exhibition "Our Selfie". It will be exhibited at MO Lobby September 4-30. Have a look what the painting is about and come to see it yourself!
In 2009, as Lithuania celebrated the millennial anniversary of the first mention of the country's name in historical documents, President Dalia Grybauskaitė invited the country to reflect on its past and present and to remember Lithuania's complicated history. To this end, she chose to feature a controversial work of art by Šarūnas Sauka entitled Painting for the Millennium of Lithuania, as part of the millennial commemorations.
The enormous canvas was first unveiled at the Lithuanian Presidential Palace in 2010 and remained on display there until the end of President Grybauskaitė's second term in office. Painting for the Millennium of Lithuania was one of the most provocative and discussed works of art in the country during this period. After Mrs. Grybauskaitė's departure from office in July 2019, the painting is now being temporarily stored at MO Museum, providing the public a unique chance to get a closer look at the work.
Two years in the making, the painting is Sauka's largest creation to date, consisting of nine parts. At first glance, the people in the meticulously rendered crowd within the enormous painting look unrecognizable, but a closer look reveals the faces of historically important Lithuanian figures, such as Jonas Basanavičius, Simonas Daukantas, Žemaitė, Maironis, Petras Cvirka, Juozas Tumas Vaižgantas, Šatrijos Ragana, Mikalojus Konstantinas Čiurlionis, Antanas Smetona and many others.
What kind of Lithuanian history has Sauka encoded into the symbols featured in his painting? The historical figures he includes here are depicted in the nude – devoid of any characteristic attributes or distinguishing signs, emphasizing his belief that, despite our laurels and acquired social status, we are all people and none of us can escape the challenges of fear, loneliness and a sense of guilt. In Sauka's own words, his painting was an effort to "restore humanity to our icons."
A Rūpintojėlis, or Pensive Christ figure – a common feature in Lithuanian folk art and wayside crosses – appears in the foreground of the painting, adorned with Sauka's own face, reflecting on the spiritual decline of humankind. With his symbolic language, Sauka analyzes society and seeks to identify its flaws. The painting might be called a psychological portrait of a people. Can you recognize yourself within it?