Šarūnas Sauka. For Mother, 2022
We invite you to see Šarūnas Sauka's latest work "Mamai" (For Mother) in the MO lobby.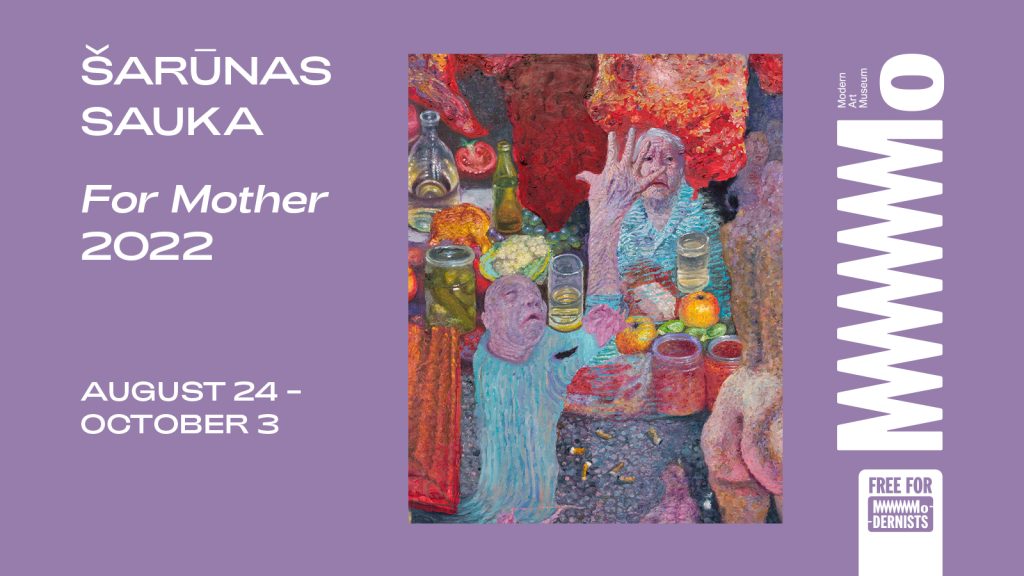 From August 24 until October 3, we invite you to see Šarūnas Sauka's latest work "Mamai" (For Mother) in the MO Museum lobby.
The painting Mamai was created after the death of the artist's mother. The main figure in the painting, depicted at the center of the work with a raised hand, is Rūta Saukienė (1929–2021), a graduate of Lithuanian studies from Vilnius University, a long-time editor at the Vaga publishing house, and a translator. Lithuanian children still read the books she translated into Lithuanian, including Junior and Karlsson-on-the-Roof, based on the work of Astrid Lindgren and Oscar Wilde's The Happy Prince and Other Tales. Saukienė closely followed her son's artistic career throughout her life and had her own interpretation of each of his works. As Sauka himself has said, his mother participated in every one of his paintings.
__
Šarūnas Sauka is one of Lithuania's most prominent painters. His works appeal to audiences with their strange narratives and richness of imagery. At the same time, they horrify with realistically rendered aging, sometimes mutilated bodies and phantasmagoric scenes. Sauka's works also incorporate reflections of reality: real contemporary or historical personalities and details of everyday and personal life. In this way, he interweaves the present and the past. The intense colors of Sauka's paintings come to resemble a hallucination or nightmare.